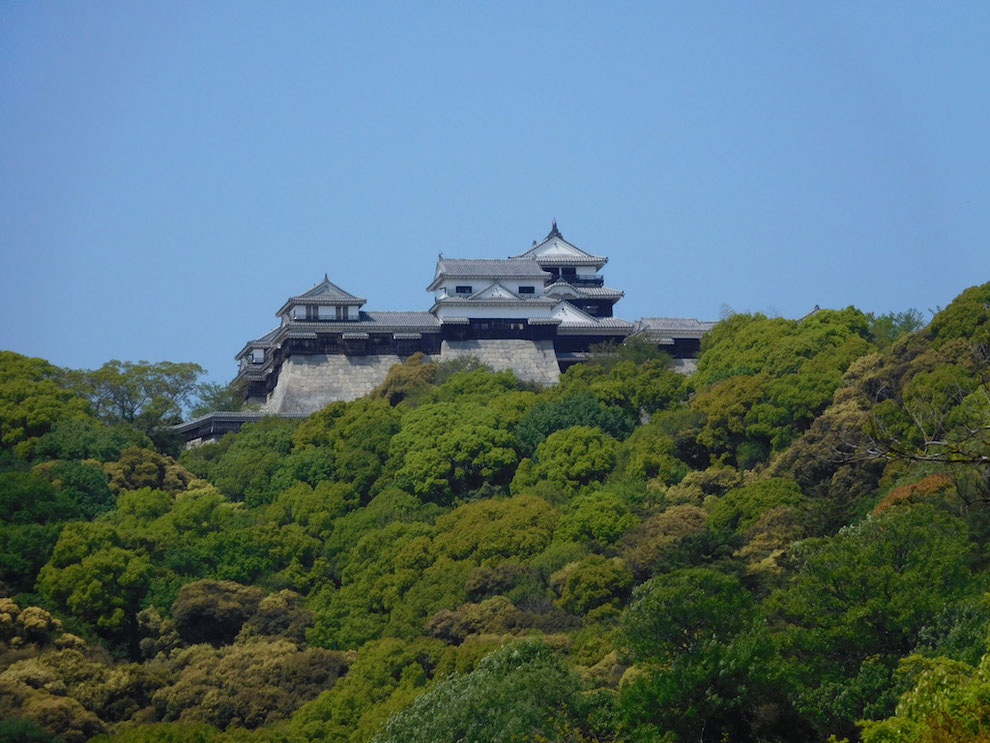 [日本語]
There is Matsuyama Castle which was built on Mountain Katsuyama, whose height is 132m in the center of Matsuyama City, Ehime Prefecture, Japan.
Matsuyama Castle was built by Yoshiaki Kato in 1602 , and the lord of Matsuyama Castle changed with Kato Family, Gamou Family, Matsudaira(Hisamatsu) Family.
Current Matsuyama Castle's Castle Tower was built in 1854, and it is one of the 12 Castles with Existing Castle Towers.
We can use a cable car  and lift in order to go to Matsuyama Castle.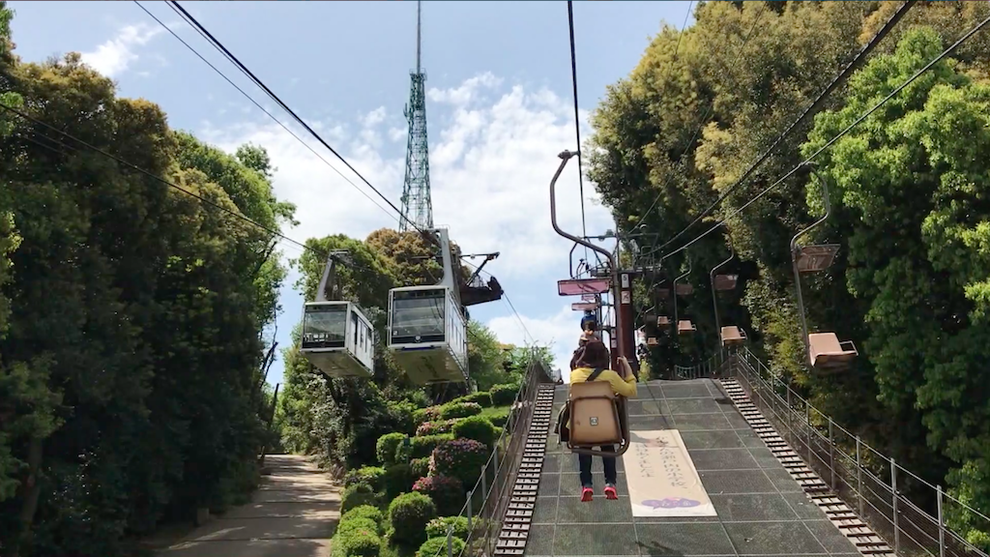 A short walk from the place that we get off a cable car and lift brought us to big stone walls.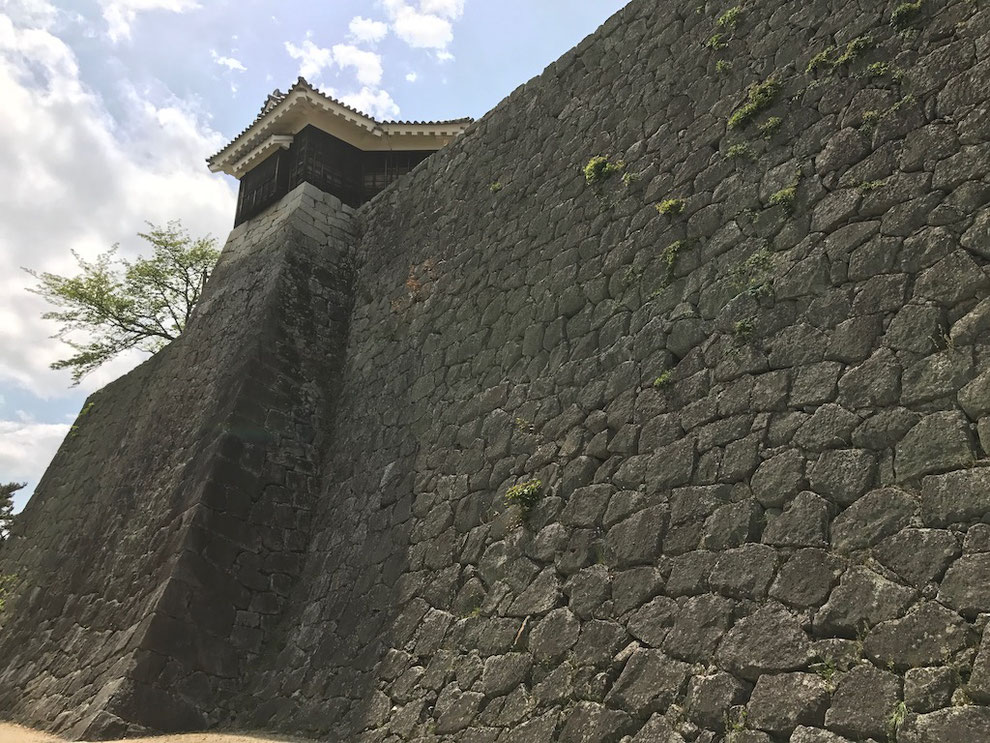 Matsuyama Castle was built directly after Battle of Sekigahara, and it has many facilities for war.
There are many buildings and gates in addition to Castle Tower in Matsuyama Castle and we can see them on the way to Castle Tower.
Tonashi-Mon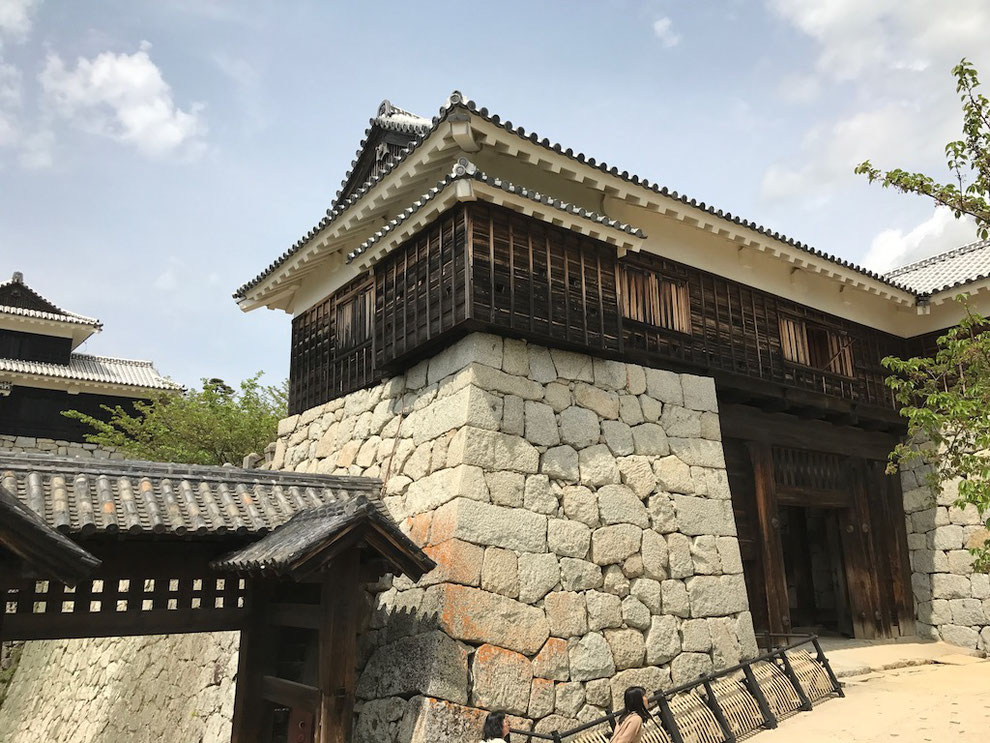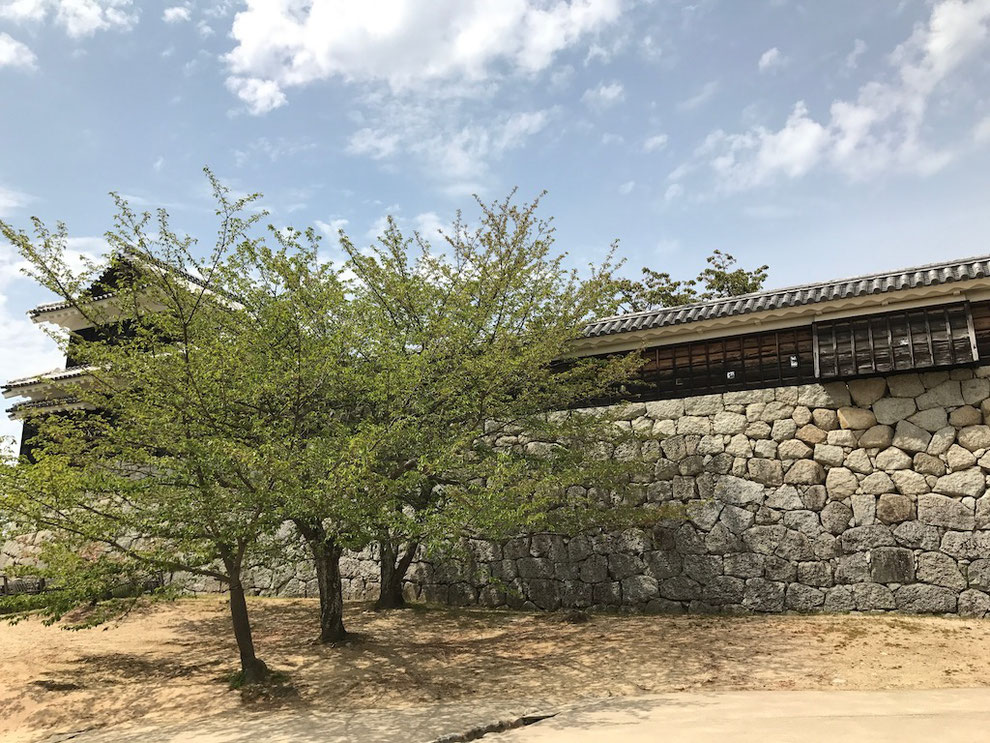 This is Castle Tower.
It is a lookout-tower-style Castle Tower interconnecting a large Castle Tower and a small Castle Tower and Sumi-Yagura and some gates.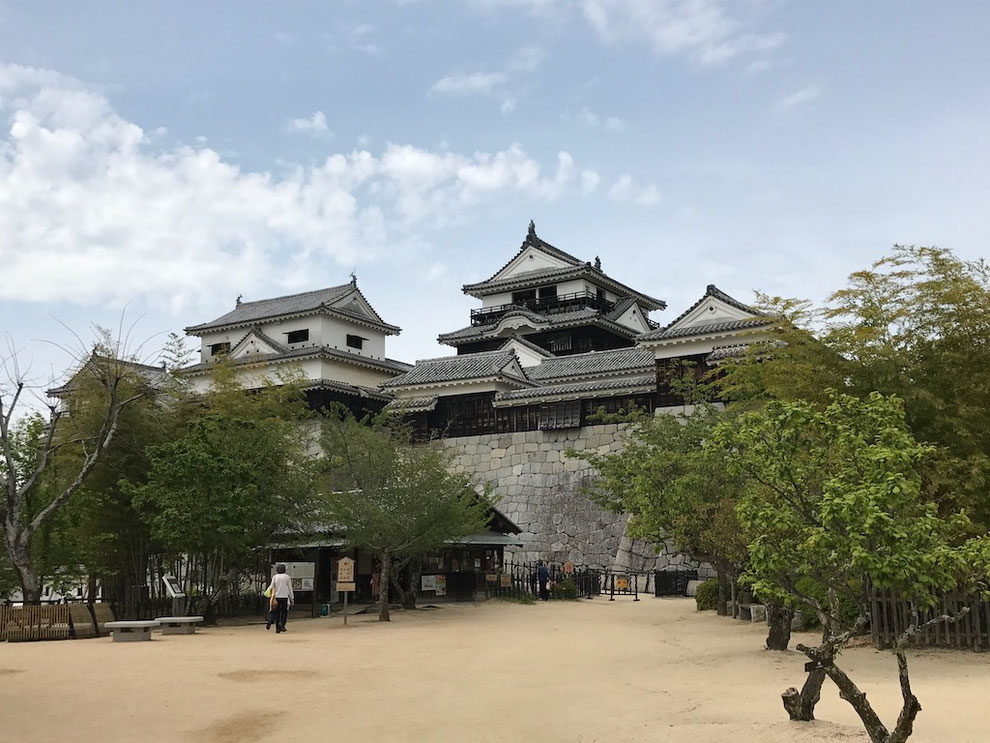 Castle Tower requires an admission fee and it is 510 yen(about 500 - 520 US dollars). 
Opening hours:
     February - July                 9:00 - 17:00
     August                               9:00 - 17:30
     September - November   9:00 - 17:00
     December - January         9:00 - 16:30
A large Castle Tower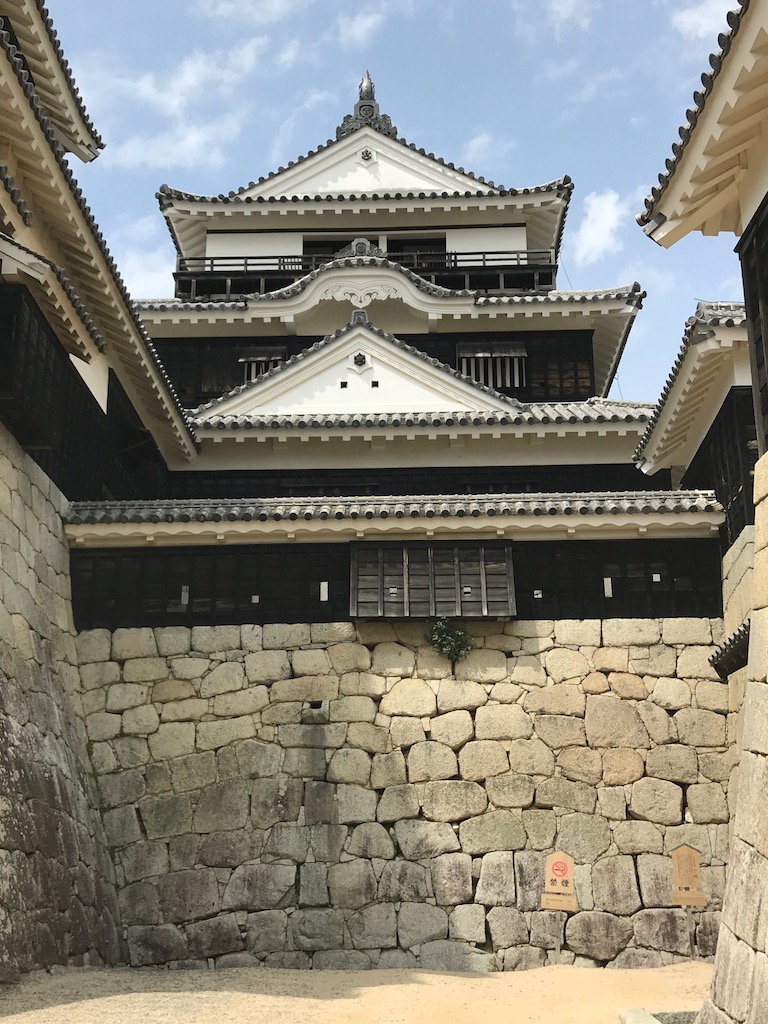 A large Castle Tower has 3 tiers, 3 aboveground floor, and 1 underground level.
At first, it was five-story Castle Tower, but it was rebuilt to three-story Castle Tower by Sadayuki Matsudaira.
There are various theories about the reason of rebuilding : Earthquake resisting, Consideration for Edo bakufu(Tokugawa shogunate). 
The entrance of a large Castle Tower is 1 basement, and it is in the stone wall.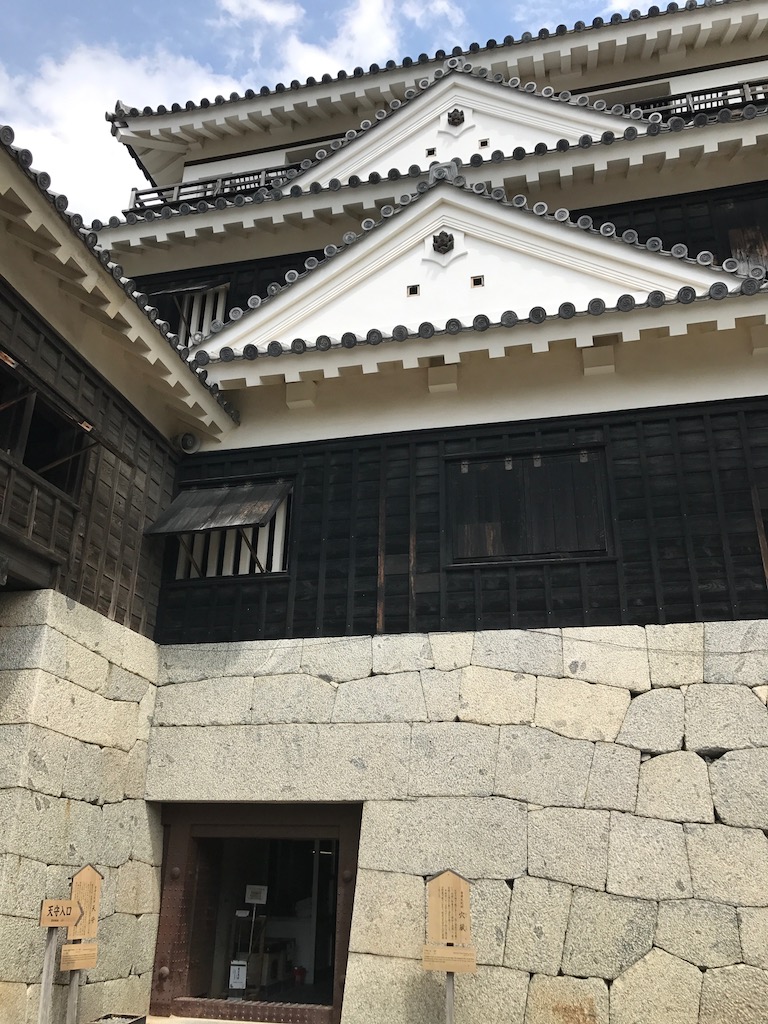 The inner part of Castle Tower is a museum of Edo period.
This is a facility in Castle Tower to drop big stones to enemy soldiers.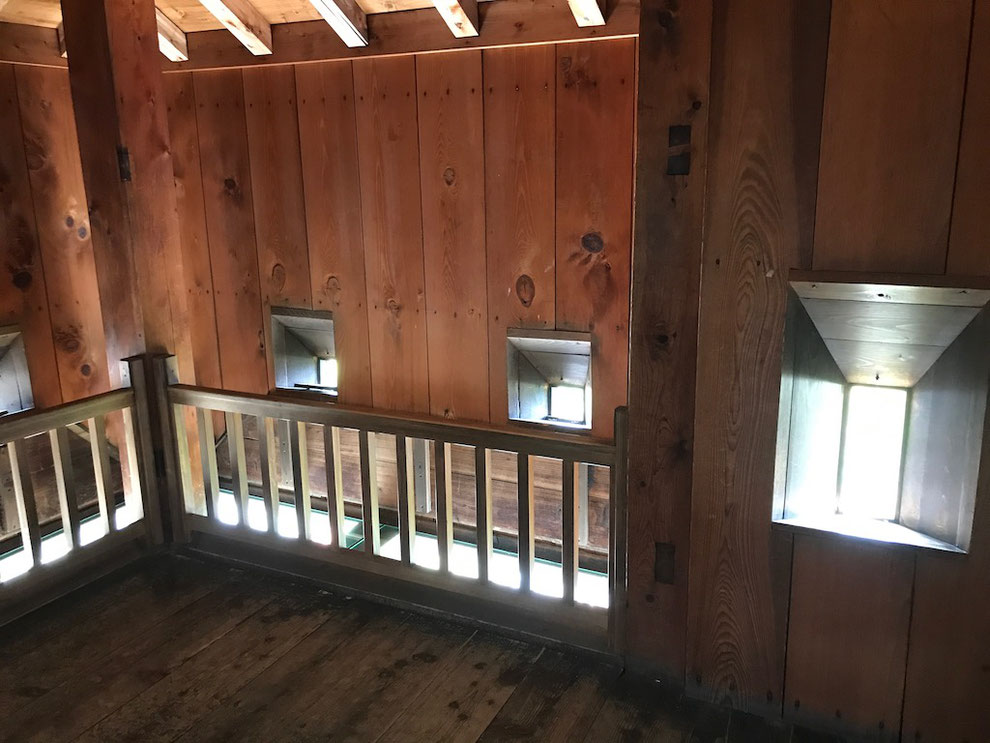 This is the top floor of a large Castle Tower.
It commands a panoramic view of Matsuyama City.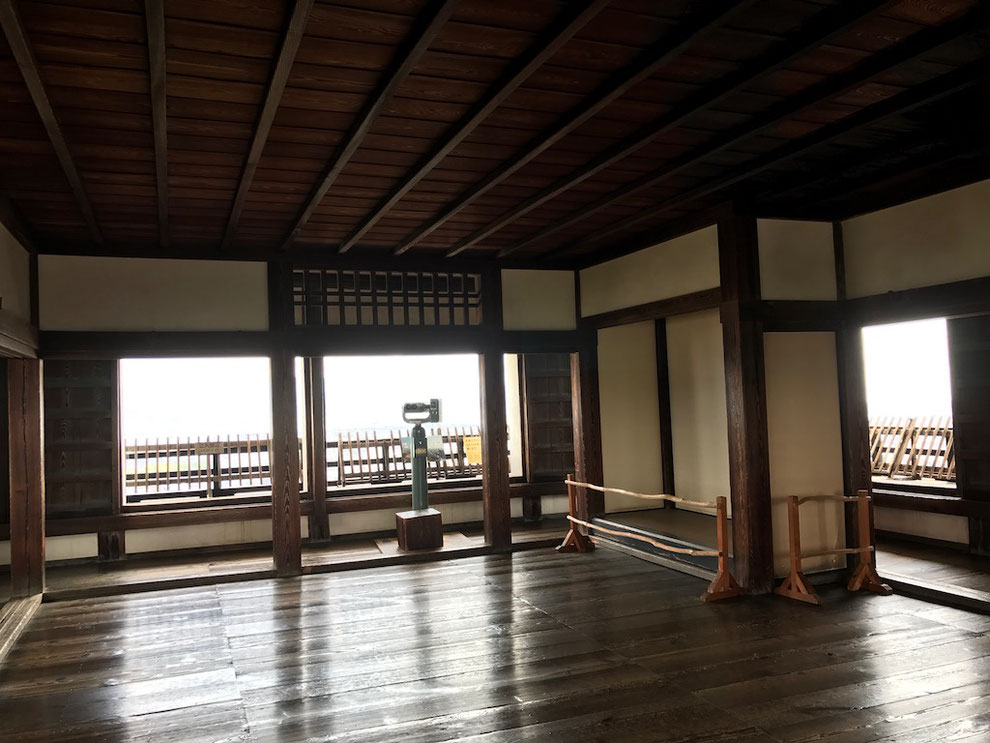 South : The direction of the central Matsuyama City(Okaido, Gintengai, Matsuyamashi Station)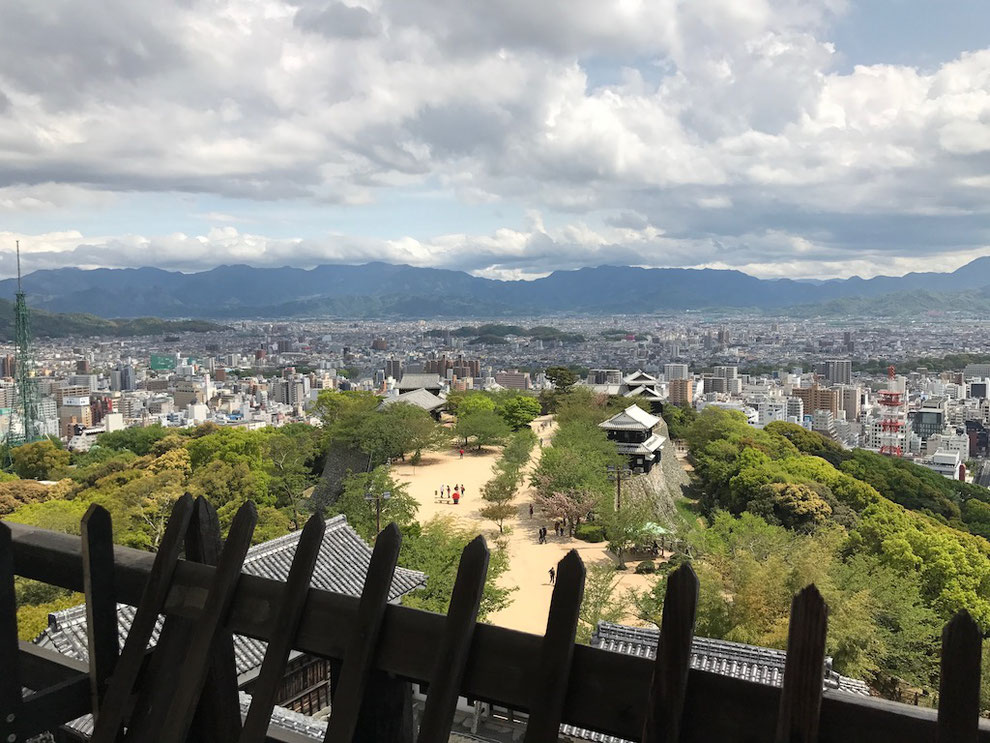 West : The direction of JR Matsuyama Station, Matsuyama Airport, Matsuyama Port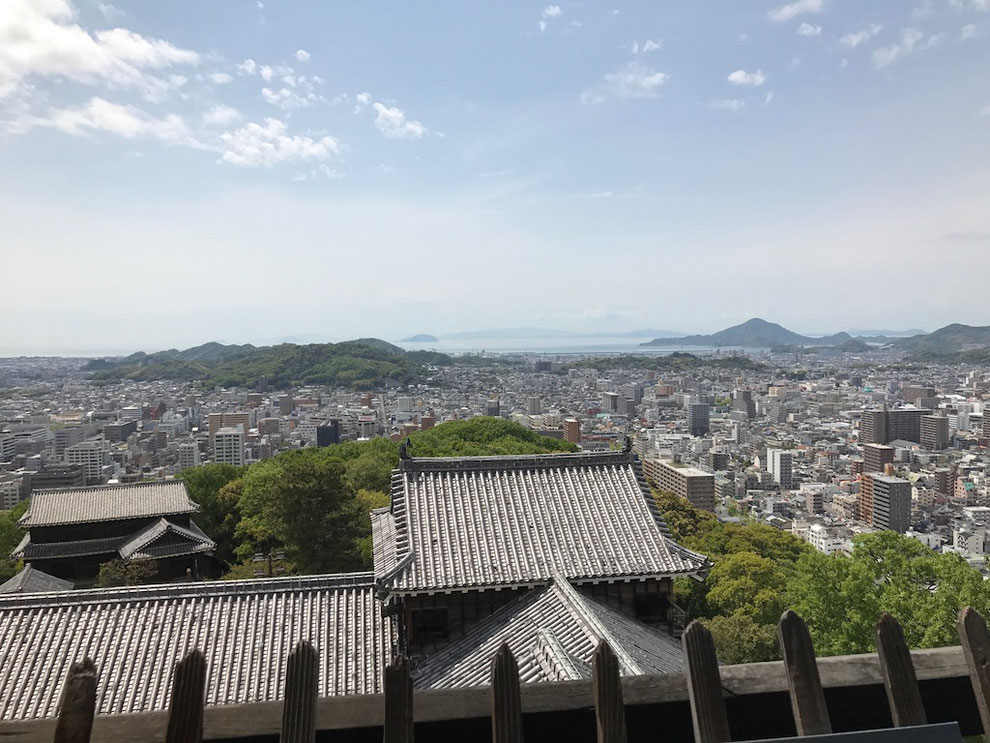 North : The direction of Ehime University, Matsuyama University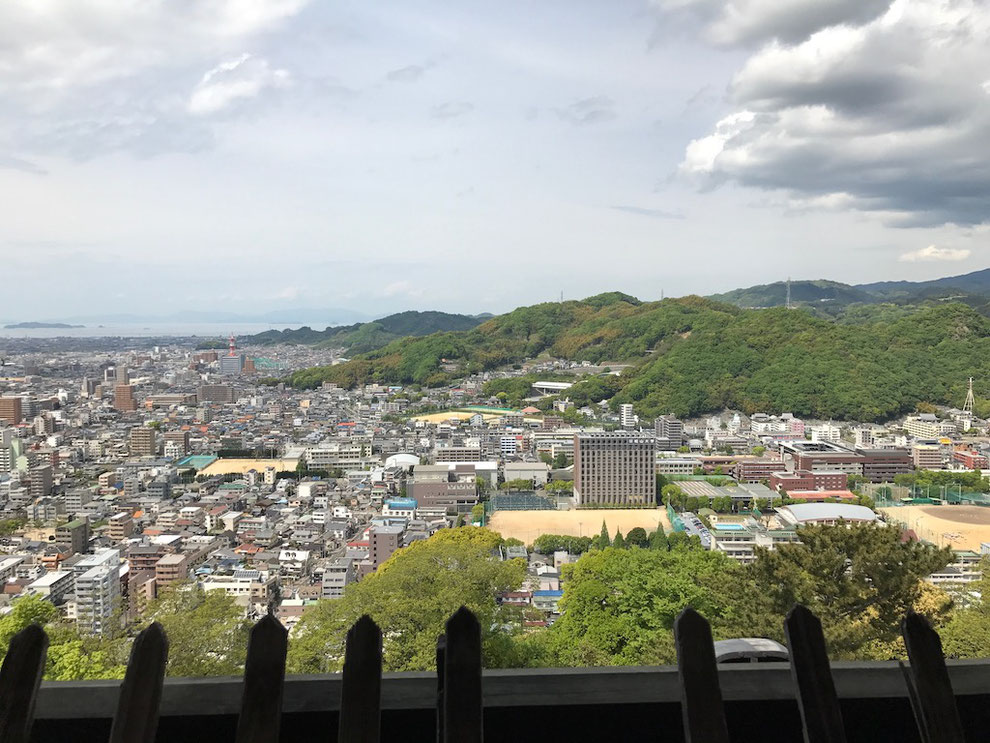 East : The direction of Dogo Onsen(Hot Spring), Dogo Park, Ishite-ji Temple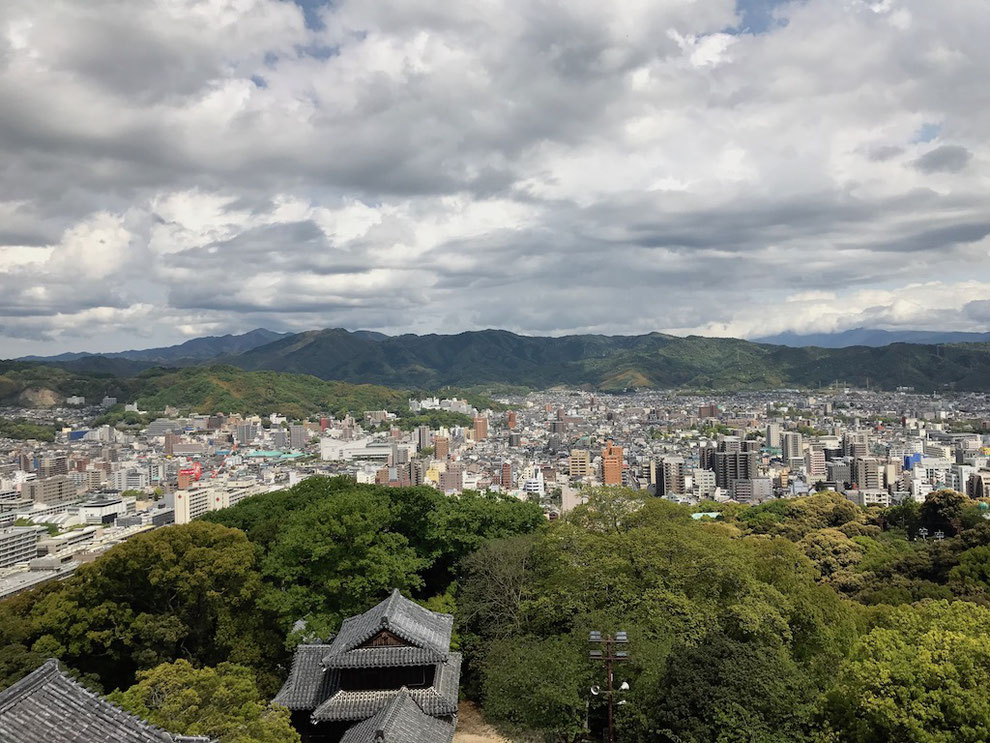 Castle tower has other good facilities.
This is "Shikiri-Mon-Uchibei". It has some "Sama", holes for guns.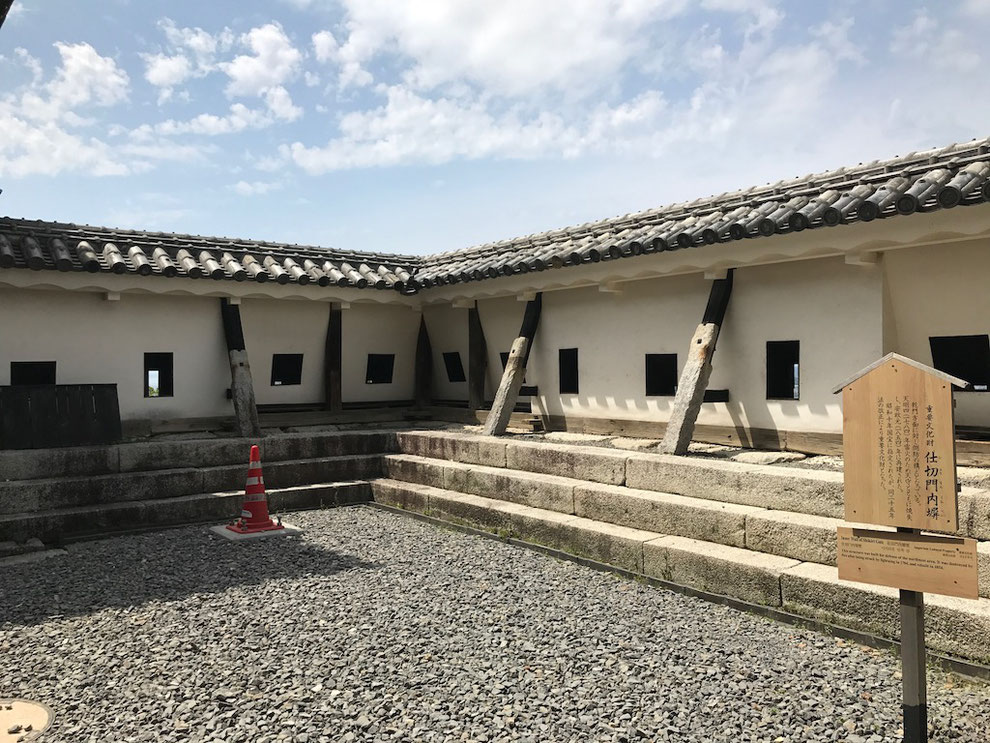 This is "Ichi-no-Mon(Gate)". It is the gate of Castle Tower which was built in Edo Period.
These 21 buildings and gates left from Edo Period are important cultural properties of Japan.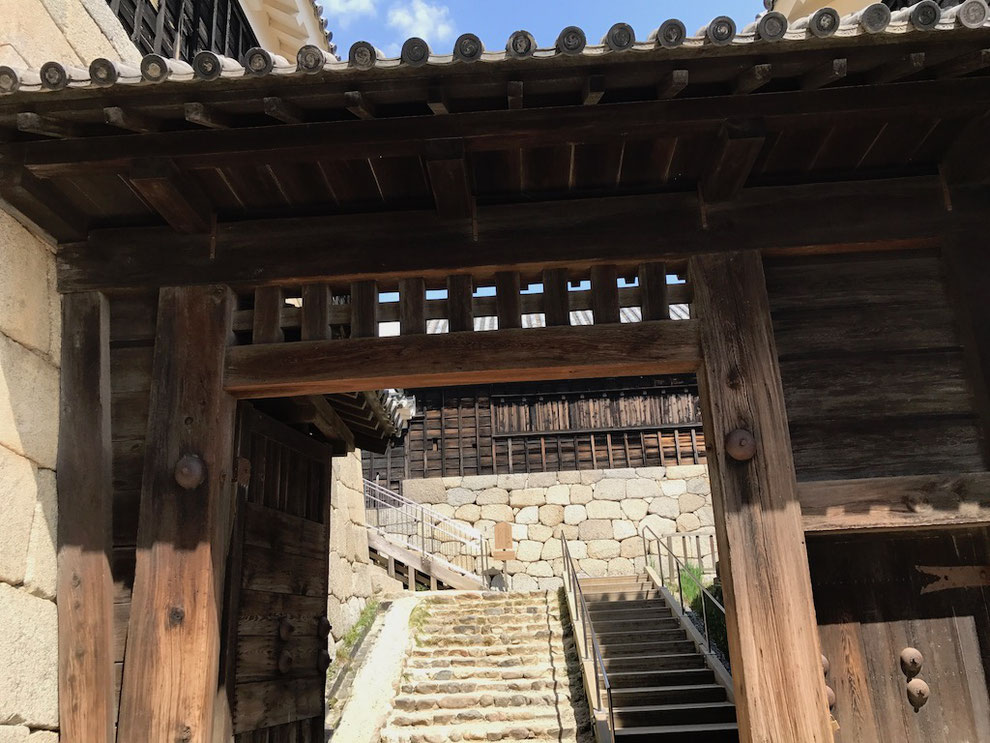 And there is a tea house near Castle Tower.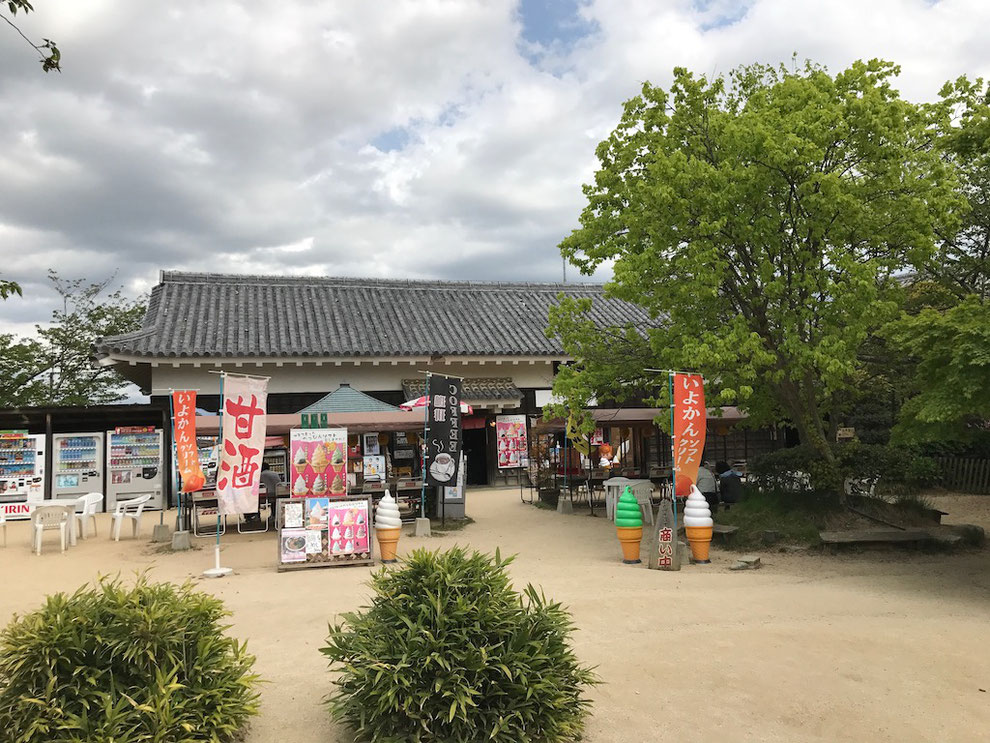 A famous food of this tea house is ice cream with "Iyokan".
("Iyokan" is a kind of Japanese citrus.)
It has a grain of Iyokan and it is very delicious.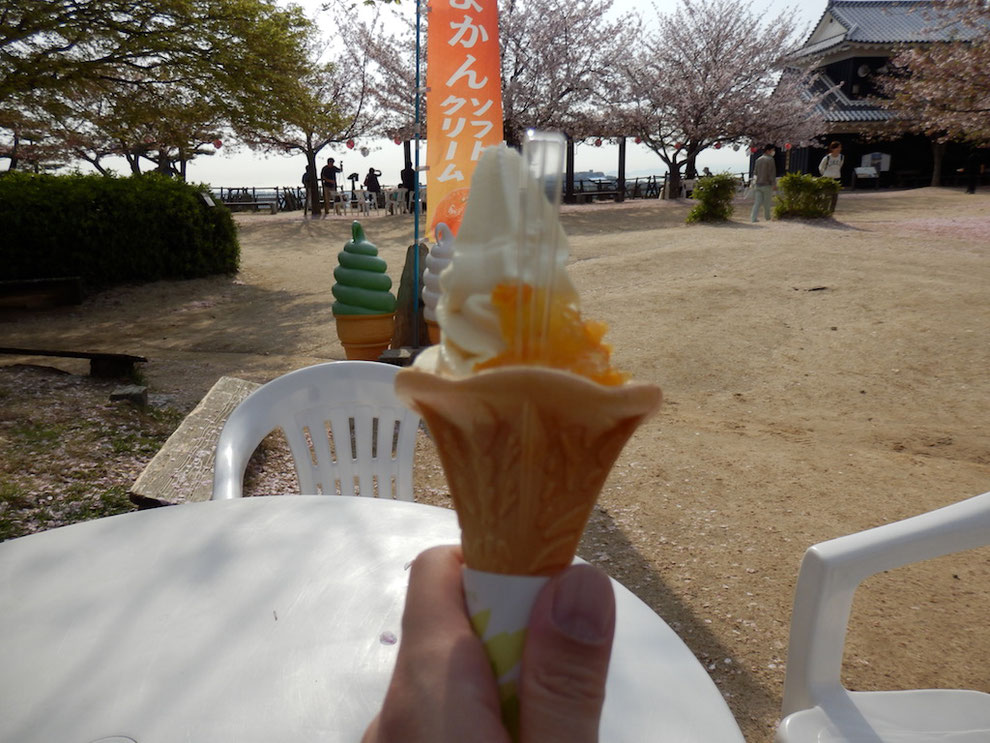 There is a mountain path from Castle Tower.
When we down this road, we can arrive at Ninomaru on the foot of Mountain Katsuyama
It is only five minutes walk from Castle Tower to Ninomaru.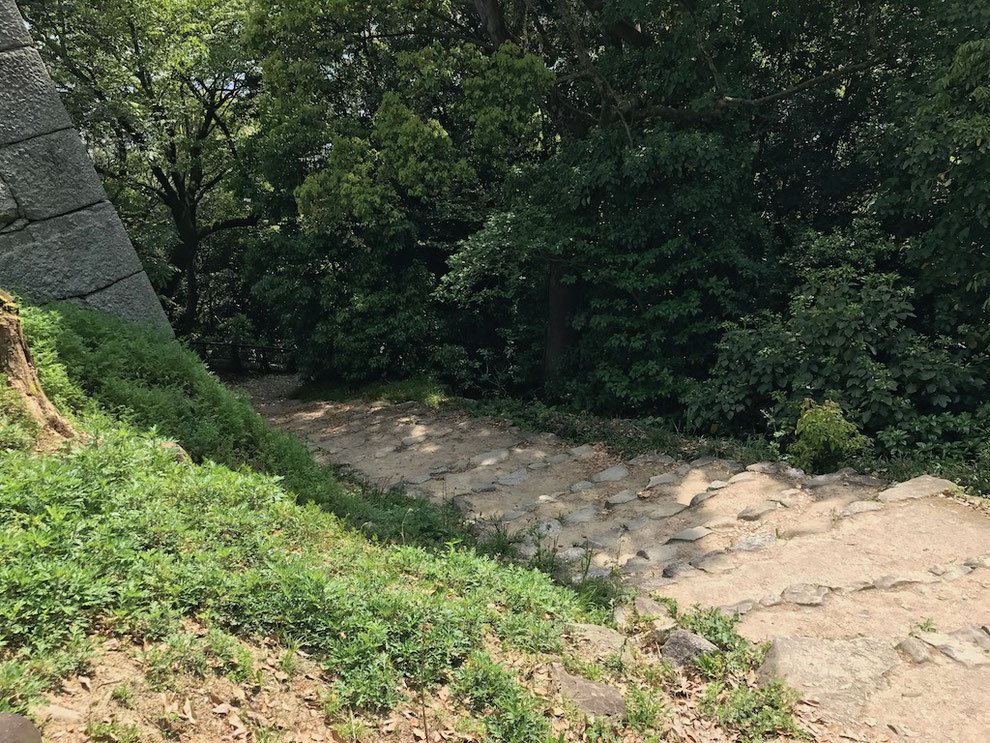 This is Ninomaru Historic Garden.
Ninomaru was place of the life of feudal lord in Edo Period and Ninomaru is maintained as a garden now.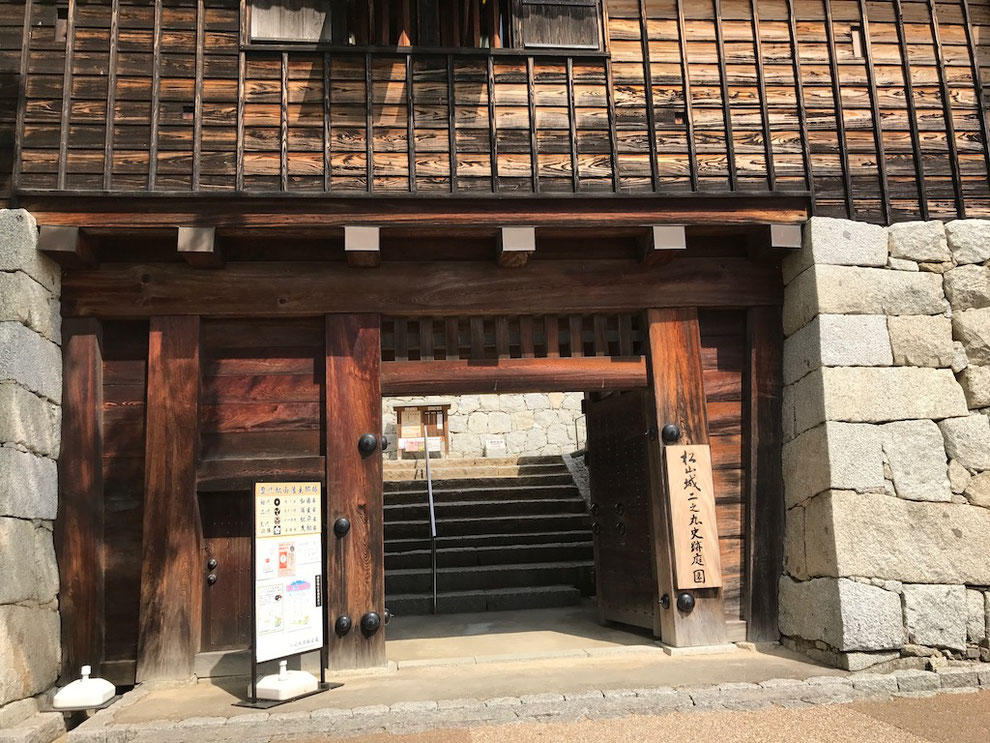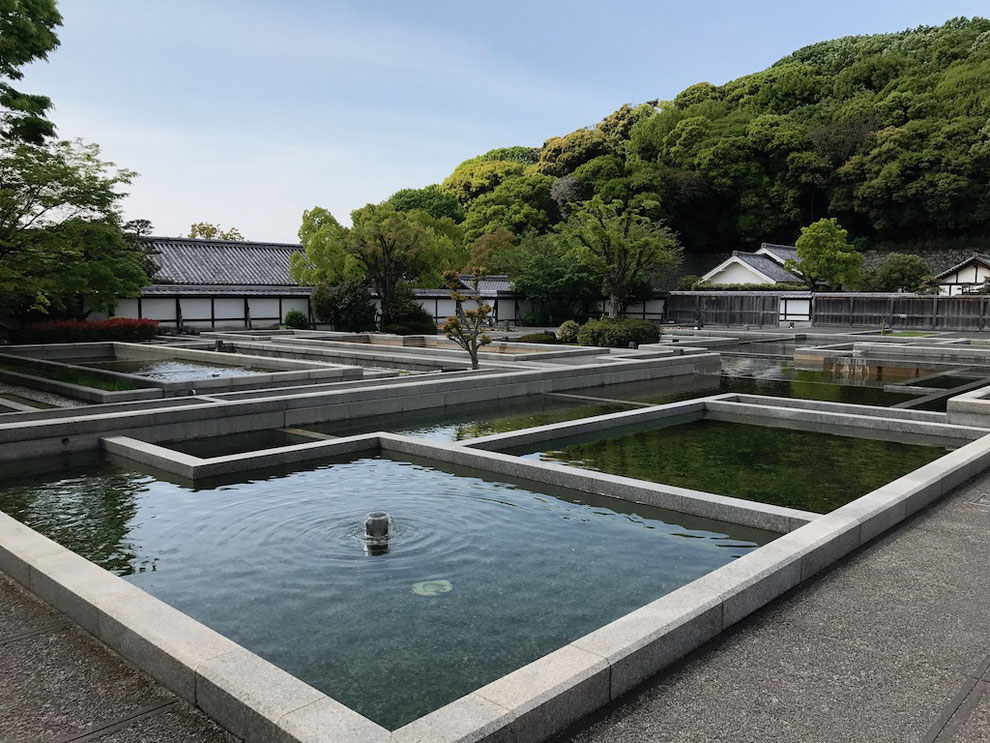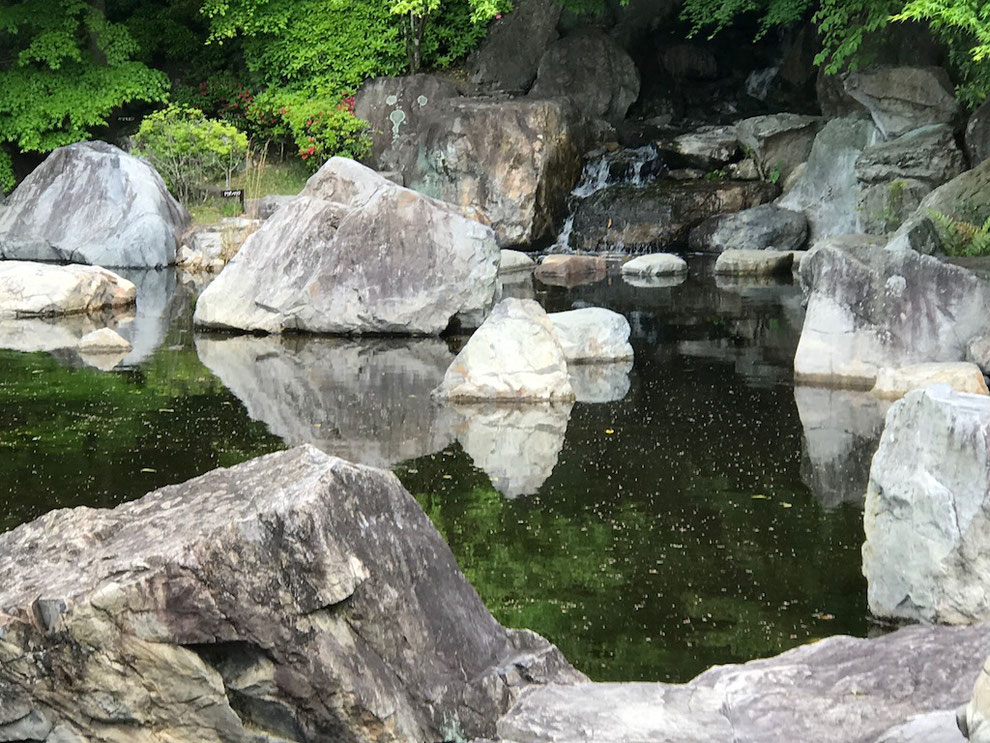 Recently, Ninomaru Historic Garden is specified as "The Holy Ground of Lovers".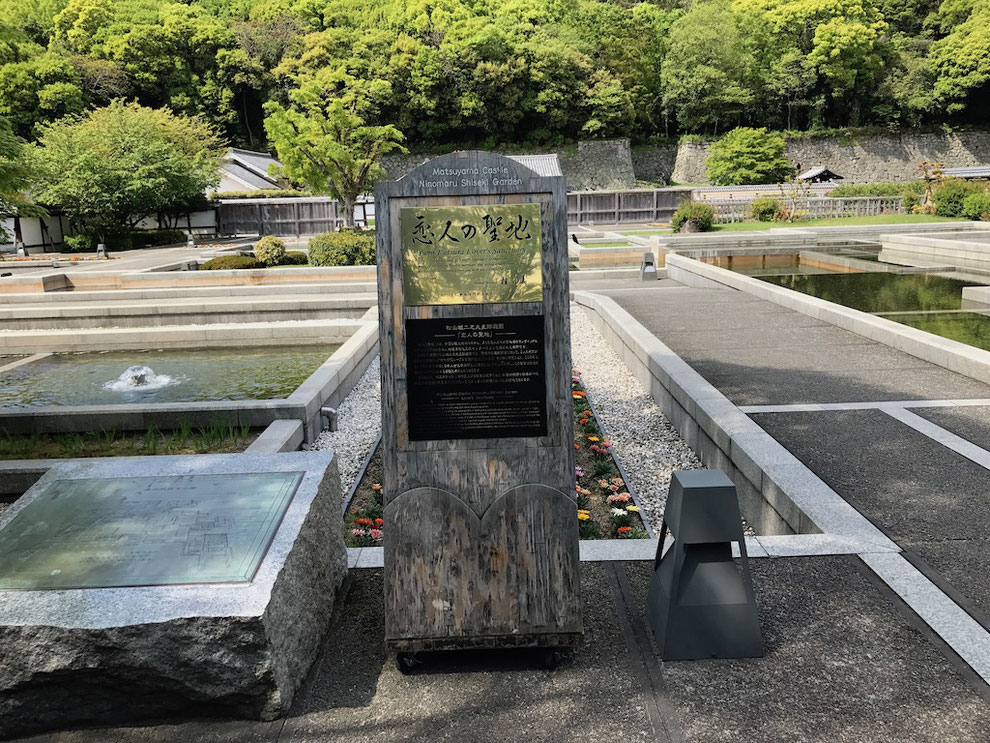 This is a remained sight of big well.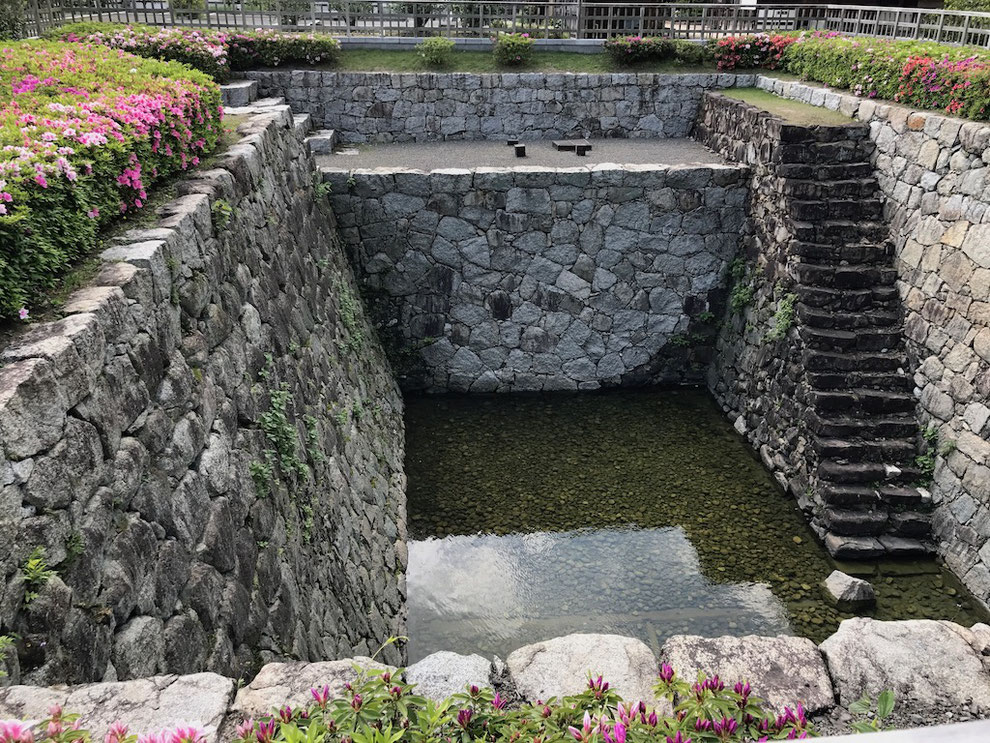 There is Shiroyama Park which was Sannomaru of Matsuyama Castle in Edo Period outside Ninomaru Historic Garden.
Now, there is a civic center, an art museum, a library and NHK in Shiroyama Park.
And various events held in it.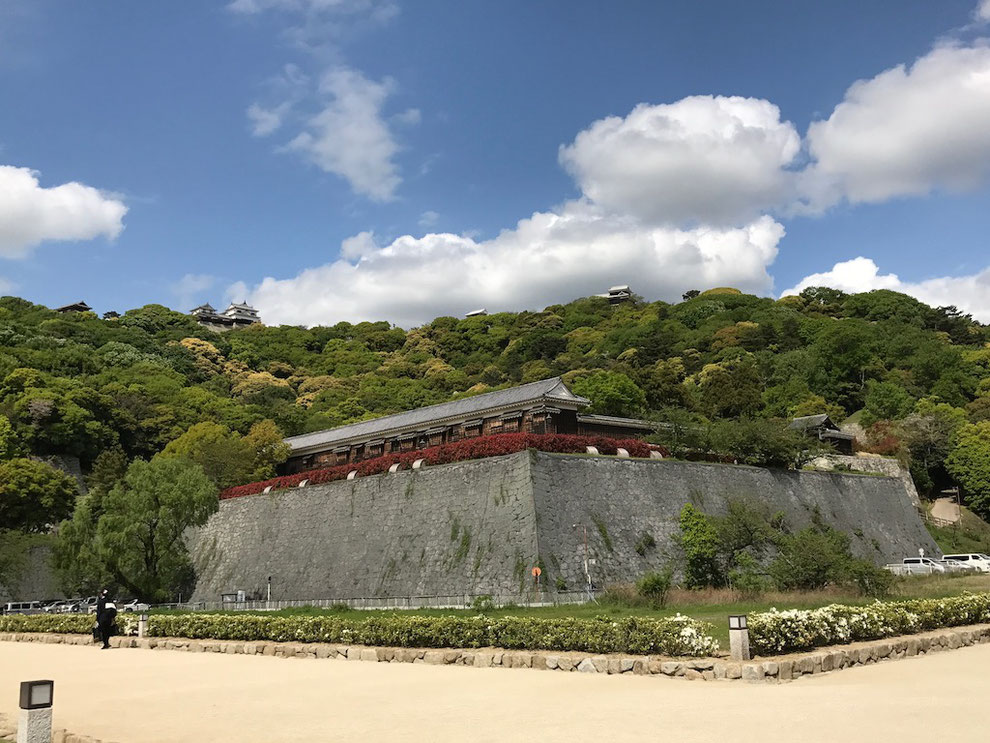 There is a moat of Matsuyama Castle around Shiroyama Park.
It serves an oasis for Matsuyama burghers.